Into All The World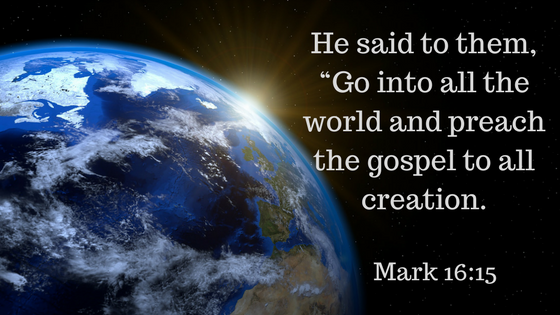 Supporting World Missions is a big part of who we are as a family of believers. First Christian Church of Seminole was established in 1972 with a vision not only for reaching Seminole and Pinellas County for Christ, but taking the Gospel to the ends of the earth. Jesus summarized the primary purpose of the Church when He said to His followers, "You will be my witnesses in Jerusalem, and in all Judea and Samaria, and to the ends of the earth" -Acts 1:8. Here at FCCS we understand the importance of sharing the Good News of Christ with others locally, and of partnering with those who are taking that Good News around the world.
Our missions budget is separate from our General Fund and Building Fund Budgets.  The entire missions program is supported through our annual Faith Promise campaign held every February.  During this time members of the FCCS family are encouraged to pledge an amount that they trust God will provide for them to give in the coming year (over and above their regular giving) to support world missions.  In recent years the FCCS family has given in excess of 20% of our annual income (above and beyond regular giving) to our missions partners here and across the globe.
We have been especially blessed to have 2 former church leaders from FCCS now serving on the Mission field.
GOOD NEWS FOR AFRICA:  Don Hulsey is a former Youth Minister at FCCS.  He and his wife, Aleta served with Good News for Africa in Mozambique from 1996 to 2017.  Good News for Africa has 5 teams throughout the country of Mozambique.  The focus of the GNFA teams is to disciple and train indigenous church leaders and enable them to faithfully serve the existing churches, evangelize others for Christ and plant more churches in un-reached areas.   Click here to send an email to the Hulsey family.
WYCLIFFE BIBLE TRANSLATORS:  Mike Osborn was a former Elder at FCCS.  He and his wife Karen began serving with as missionaries in 2001.  They are now missionaries with Wycliffe Bible Translators and serves at the JAARS (formerly Jungle Aviation and Radio Service) center in Waxhaw, North Carolina.Mike serves as the Vice President of Partnership Ministries for JAARS – raising awareness, prayer and financial support for Bible translation and Scripture distribution projects around the world.  Click here to send an email to the Osborn family.
So, for us, supporting World Missions is not only an act of obedience to a command from our Lord…it's personal! Financial support for our Missions program is generated through an annual Faith Promise commitment.
Here are some of the other World Missions that we support here at FCCS:
CHRISTIAN OUTREACH CENTER:  A center dedicated to providing children's programs that meet many academic, social and spiritual needs of the Clearwater/Largo area.  Their mission is to show Jesus' love to the children (and their families) who may not have access to hearing about Jesus.  Click here to send an email to the Christian Outreach Center.
LAKE AURORA CHRISTIAN CAMP & RETREAT CENTER:  At the heart of the Lake Aurora ministry lie its programs.   Sixty-five years of experience are behind the summer camp programs providing a vast array of opportunities for children entering 1st grade through 12th grade.  Family, adult, teen and professional retreats have been developed to give individuals of all ages the opportunity to strengthen their relationship with one another and their Lord.  Click here to send an email to Lake Aurora.
FAMILY MINISTRIES OF FLORIDA:  Since 1976 Family Ministries of Florida has been serving and building relationships with families throughout the state of Florida and beyond.  Children who cannot live with their families for one reason or another attend our residential program, while students from on campus as well as the surrounding community attend Legacy Christian Academy, a ministry of Family Ministries.  The Legacy Christian Academy is a Bible-based Christian school offering grades 1 – 12.   LCA is registered with the Florida Department of Education and accredited by the Florida Council of Private Schools.   Click here to send an email to Family Ministries of Florida.
BAJIO CHRISTIAN MISSION:  Mark and Joy Hoff are serving the Bajio Christian Mission in San Pedro Sula, Honduras.   They are equipping God's people to spread the Word by educating church leaders, empowering pastors and encouraging missionaries.  Their vision is the continue educating local Christians for leadership roles and to start new churches.   They also want to encourage believers to develop preaching and teaching skills.   Click here to send an email to the Hoff family.
JOHNSON UNIVERSITY:  Johnson University provides a quality, affordable Christian education for those who desire to impact their world for Christ.  Click here to send an email to Johnson University.
GOOD NEWS PRODUCTIONS INTERNATIONAL:  GNPI equips the body of Christ with culturally relevant media and technology to accelerate global evangelism.   GNPI is a non-profit organization that accelerates global evangelism through media.   Ziden Nutt founded GNPI in 1976.  Today, nearly four decades later, GNPI works through regional centers and NOMaD teams throughout the world.  Click here to send an email to Good News Productions International.
FRIENDS OF CHRIST HAITIAN MINISTRY:  Haitian nationals, Mioche and Rosie Rock have faithfully served our Lord in ministry to the people in Pignon, Haiti for the past 16 years.  They used their skills to plant a New Testament congregation in Bouyaha, near Pignon and a Christian school (K – grade 6).  The Rocks operate a community development ministry with youth emphasis, sports and community services and run a radio ministry which reaches over 300,000 people daily with the Gospel and social/community issues.   Click here to send an email to the Rock family.
SHORT-TERM MISSION TRIPS:  Your support for this mission includes materials and expenses for mission trips.