Thank you for your giving and support of First Christian Church of Seminole! It is through the tithes and offerings that FCCS is able to minister to our community, our families, and the world!
Online Giving
When giving, registering, or paying via the Church Trac web giving form you will have to create a Church Trac account to make one-time or recurring donations. They wanted to make that process easy and pain-free. You can start giving from FCCS' website at any time.
The below features become available to you with an account:
Securely store your payment method (so you don't have to type it out each time)
Setup / cancel a recurring donation
See your giving history
Manage your account 24/7
Specify where your money is going.
Split your payment between multiple designations.

** All sensitive financial information is stored with the highest bank level security. Your phone number will never be sold, traded, or given to third parties. You will only be texted to confirm your giving. **

---
Mobile Giving
Traditionally, giving on phones and tablets can be frustrating. Nobody likes poking at their screens to type long card numbers, addresses, and other unnecessary information. Church Trac enables you to save your details and give with a single tap.
Text Giving
…..or give by text! Click on the SMS/Text Giving tab.
To begin using text giving, just click the SMS/Text Giving tab. After this you will be prompted to create an account. Once the account is created, you will see 3 blue tabs at the top, Credit/Debit, ACH/Checking, and SMS/Text Giving. Enter your phone number and the card number that you would like to use. They will send you a validation code and then you will be set up. You can use text giving by texting any of the below options to the above number.
Simply text the amount you want to give and your card will be charged: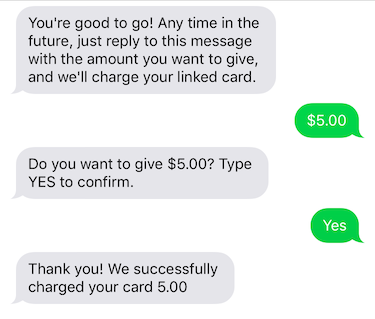 Our specified giving options are:
– Missions
– Building
– Benevolence
– Other
– General Fund
You can add a memo that the church secretaries will see. Just add your memo after the amount you want to give. (ex: $25 to missions)

---
Cash/Checks
You can always drop your tithe off at the church in the form of cash or check during our normal business hours and one of our secretaries would be happy to take your tithe. You can also mail your offering to our church. Another option is to put it in an offering envelope on Sunday and place it in the offering receptacles that are located near the doors.