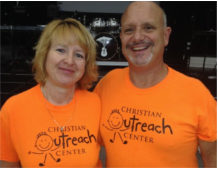 Steve & Shari Iovino are the new Director & Co-Director of the center, with over 7 years experience in this type of program under the leadership of former Directors John & Brenda Grampsas. C.O.C is directed by a board of 12 members represented by different churches and denominations.
Christian Outreach Center has been operating since 2001. The volunteers / workers are qualified Christian individuals from all walks of life. Their dedication and burden for children, youth and their families is what makes them unique.
The center s annual budget is estimated at $130,000 . We depend on the community and people like you to help with financial needs.
We currently have about 12 volunteers to meet the needs of about 100 children.
Our workers have different responsibilities in one or more of the following areas:
Bus drivers
Bus workers
Program workers
Food prep. workers
Decision Counselors
Tutors
. . . to name few.
We have a great need for more volunteer workers. Please call our Christian Outreach Center office @ (727) 595-2117 if you are interested in helping.
For more information, please visit their site:  http://www.christian-outreach.com/