New Here?
Welcome. We are a group of imperfect people trying every day to live our lives as completely committed followers of Jesus Christ.
Our lives are busy and filled with things on the to-do list. At the end of the day we want you to look back at your items crossed off the list and ask yourself a question, "Did I live my life for God today?"
At First Christian Church, we offer many resources to help you on the journey. Hopefully, this website will help you learn about our resources and get to know our church a little better. After all, we're just imperfect people striving to live a life for God. We hope you'll join us.
What kind of church is this?
First Christian Church is a non-denominational, Bible-based church in Seminole, Florida. The church was founded in 1972 and we strive to be true to God's word while being relevant and meaningful to our community. Our pastor and leadership team are focused on helping everyone to focus on God, connect with the community and commit to each other. We believe that Christianity goes beyond Sunday mornings and our desire is to build authentic relationships in the community and with each other.
What will the service be like?
At First Christian Church, our worship services are designed to help each person make a personal connection with Jesus Christ. Our use of multimedia and both traditional and contemporary music help to create an atmosphere where people can connect with God and grow as believers. Our pastor, Andy Mason, strives to deliver messages from the Bible that are full of relevance to the challenges of everyday life. If you are just beginning to investigate Christianity or if are in a mature relationship with Christ, we feel that First Christian Church will be a place where Christ can touch you in a personal way.
What do you have for my children?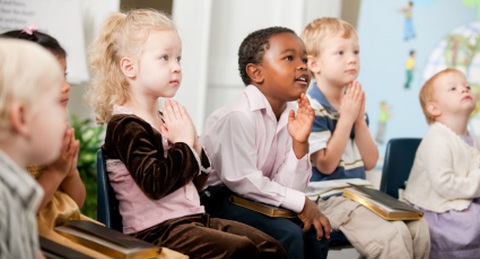 Children from crib-babies up to middle-school and high-school students are a BIG focus for us at First Christian Church. We see our kids not as the "church of the future" but value them as church members TODAY! Our youth minister and children's director work hard to provide fun, interactive and meaningful lessons and activities for your children.
Our nursery is a clean and safe place for your little ones during our 11:00 a.m. worship service allowing you uninterrupted worship. Pre-K through kids in the 5th grade always enjoy our Kids For Christ (KFC) worship service in the youth building while mom and dad attend worship.
We also have great opportunities for your older students in middle school and High School to hear the message of Christ and have a great time learning how to follow Jesus, in an atmosphere that makes them want to come back every week (and bring their friends)! Visit our Children and Youth/Student pages to learn more about our other activities and programs.
What are your Sunday service times?
SEPTEMBER:

Bible Class:  10:00 a.m.

Combined Worship:  11:00 a.m
——————————————————————————————
Traditional worship service: 9:00 a.m.
Bible Classes: 9:45 a.m.
Contemporary worship service: 11:00 a.m.
Anything going on throughout the week?
Yes! We have many activities at the church, as well as in homes across Pinellas county. Check out our Small Groups page and below are few examples:
Family Dinner: Wednesdays at 6:00 p.m (September – May only) – at the church
Men's Ministry (Men's Ministry at FCCS): Wednesdays at 6:45 p.m.  – at the church
Women's Adult Study: Wednesdays at 7:00 p.m. – at the church
Children & Youth classes/activities: Wednesdays at 6:30 p.m. – at the church (Visit our Children and Youth/Student pages to learn more)
Friday Night Hangout (Students): Friday nights at 6:30 p.m. – at the church
---
Experience FCCS
Get caught up on the weekly sermons. You'll grow and be challenged.
Want to get involved and don't know where to start? All our ministries offer weekly opportunities to help you connect with others. Visit our Get Connected page to learn how you can begin to form relationships with others in the various group settings we offer.
From nursery care during our services all the way up through High School and College, FCCS has something for your kids no matter what stage of life they are in.